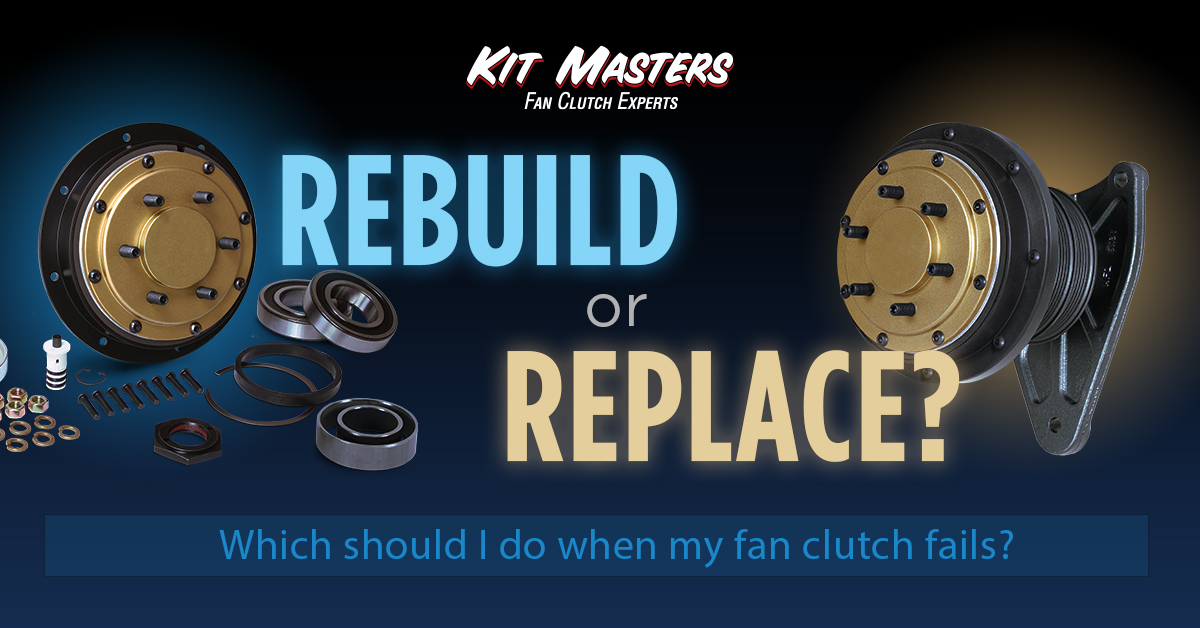 Fan Clutches – Rebuild or Replace. Which is right for you?
When the time comes and your fan clutch fails, you will need to make a decision. Should you purchase a rebuild kit and rebuild the fan clutch yourself, or a complete fan clutch assembly to replace your old one? Ask around and you'll likely get split advice on this. It turns out that there is no right answer to this question, however you will want to choose the option that fits your situation (including your budget) best.

WHY DID THE FAN CLUTCH FAIL?
The first thing you need to know before you choose between a rebuild kit or a complete assembly is what happened to your current fan clutch. There are several types of failures that can happen, and knowing which it is can help you determine how to proceed.
FRICTION FAILURE – This happens when your fan clutch friction material is worn down to the point where it cannot engage anymore. This can happen from normal long-term wear, or it can be caused by an underlying issue, like an air leak. If your friction has failed, rebuilding or replacing are both viable options.
PULLEY BEARING FAILURE – Much like failed friction material, this can either be from normal long-term wear, or from some underlying issue, like heat generated by slipping friction material due to lack of torque. As long as the failed bearings didn't damage the pulley shaft, you still have the option to either rebuild or replace the fan clutch.
CATASTROPHIC FAILURE – This can happen for several reasons, but if your fan clutch failure ends in a cracked or chipped pulley, a worn pulley shaft, or a damaged/broken mounting bracket, your only option will be to replace the fan clutch.
WHEN TO REBUILD
Compared to the price of a complete fan clutch assembly (new or reman), a rebuild kit is a very appealing option when dealing with a failed fan clutch. The cost of a new fan clutch, depending on the model, can vary, but can reach upwards of $2,000. Remans, can cost significantly less, but are still a fair amount more than a rebuild kit. This is where the appeal of a rebuild kit comes in. With a little effort, your fan clutch can be rebuilt to meet or exceed OEM standards while saving you some money in the process.
A common misconception is that rebuilding a fan clutch is a labor-intensive, time-consuming task. However, with a little bit of knowledge and some hands-on effort, the rebuilding process can be fairly straightforward.
Watch this video to see just how easy it can be.
Another benefit of rebuild kits is the availability. While there are thousands of fan clutch models out there, most of them fall into one of a few categories and each of these categories can be covered by a single rebuild kit, meaning that you can keep just a handful of kits on hand and be able to rebuild the majority of fan clutches in the market. When one of these fan clutches fails, you have the option of either ordering a replacement, which will most likely need to come from the factory with an unknown lead time, or if you have the rebuild kit on hand, you can rebuild it right on the spot. This ultimately leads to more uptime.
Pros of Rebuilding:
Versatility (can rebuild many different models with a single kit)
Less expensive
Instant availability (if kept on-hand)
Cons of Rebuilding:
Possible installation errors
More hands-on time
WHEN TO REPLACE
While rebuilding a fan clutch is not a difficult process, sometimes you might want to opt for simply replacing your fan clutch. Maybe your old fan clutch has reached the end of its life altogether – the pulley shaft is worn, or the pulley is broken – and it can't be rebuilt. Or maybe you just don't have the time to rebuild the fan clutch. In these cases, purchasing a complete assembly can be the right decision.
The benefit to purchasing a complete assembly is that once you receive the new fan clutch, you simply need to take the old one off, bolt the new one on in its place, verify your air pressure and you're all set. You also get the benefit of having a factory-built fan clutch that was assembled by a trained professional, eliminating the possibility of an installation error.
The downfall of ordering a complete assembly is that unless you have a very common model, you probably won't be able to find one locally. This means it will have to be ordered from the manufacturer, which can mean a day or two of downtime while you wait for the part.
Pros of Replacing:
Manufacturer does the work
Fast Installation
Eliminate chance of errors
Cons of Replacing:
More expensive
Delayed availability
WHY KIT MASTERS?
Kit Masters has been solving common fan clutch problems for over 25 years. They focus on providing premium fan clutches and fan clutch rebuild kits that are user-friendly and are equal to or better than OEM quality. They are guided by these principles:
Manufacture quality, made in the USA products. Kit Masters products are engineered to eliminate common causes of failure and are backed by the industry's best warranty
Be easy to do business with. Whether it's their simplified core return policy, their stellar customer service team, or their same day shipping from 12 locations across North America, Kit Masters makes business easier for their customers.
When choosing between a fan clutch rebuild kit and a replacement fan clutch, whatever your decision is, a Kit Masters product is the right choice.